TimberTech Decking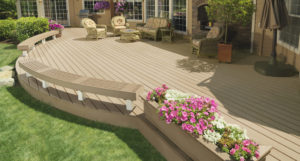 TimberTech is a company that manufactures a high quality composite decking material that is safe, durable, and low maintenance. TimberTech composite decking is an excellent choice of building material when you're constructing any deck, and the Topeka remodeling contractors at Passow Remodeling can work with you design and build a perfect deck for your home.
Our deck building experts highly recommend TimberTech decking, and we can help you decide if their composite deck products are right for your project. Then we'll work directly with you to custom design your new deck and construct it professionally. No matter what products and materials you choose, we'll always guarantee your complete satisfaction with the final product.
The Benefits of TimberTech Decking
Without annual painting or staining, TimberTech decking maintains its great look, color, and beauty. Its resistant to termite infestations, moisture damage, and warp and rot, so this decking will save you loads of time and money over its long lifespan. It's easier to care for than solid wood, and it offers all of the same advantages.
TimberTech offers a wide variety of products that cover a cast range of colors, styles, and designs, so you'll always be able to find the perfect products for your Topeka home's deck and your personal tastes. Their products are created with high quality materials, and they're specifically engineered to be durable and long-lasting. TimberTech has led the industry in innovation for years, and they've consistently been a top-seller.
All TimberTech products come with a 25 years of coverage, and the warranty is transferable to a second homeowner.
Re-Planking Your Deck With TimberTech
If you already have an existing deck at your Topeka home that's in need of restoration, our professionals can use that existing wood structure and replace its planks with TimberTech decking. This is a cost-efficient and quicker alternative to rebuilding your wood deck, and when you rely on TimberTech and Decks Unique, you can rest assured that you're getting great products and superior workmanship. Call us today to start your re-planking project.
TimberTech Products Are Environmentally Friendly and Contribute to Sustainability
TimberTech has reduced the amount of waste sent to landfills by 90%. They recycle 332 tons of materials each year, and 99% of the waste that they create during the manufacturing process is reclaimed. They're committed to making their manufacturing process more energy efficient, minimizing waste, and using water efficiently.
TimberTech isn't just a great choice for your Topeka home—it's great for your community.
You can learn more about TimberTech's commitment to sustainability here.
If you're looking for TimberTech decking in Lawrence & Topeka, call Passow Remodeling at 785-221-1123, or fill out our online request form.