Benefits of James Hardie Siding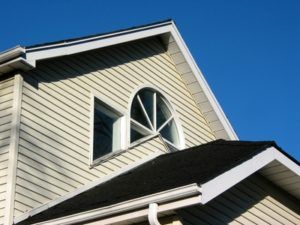 When homeowners are choosing the materials they'll use for their siding, they often choose either wood or vinyl. However, while vinyl and wood are the most popular siding materials, they both have a number of drawbacks. But where other siding materials fail, James Hardie siding succeeds.
At Passow Remodeling, our Topeka remodeling contractors can help you determine which siding materials would be best for your home. James Hardie siding is one of our specialties, and we can perform a high quality installation so that your siding provides your home with the best protection possible.
James Hardie siding is attractive and durable, and it can provide a number of benefits that set it above more traditional options:
James Hardie Siding Is Non-Combustible
James Hardie siding is fire-proof, and it's been approved for fire-rated construction. This makes it a much safer option than wood, and a safer option than vinyl siding, which can melt or burn when exposed to significant heat.
It's Available In Many Different Styles and Designs
James Hardie is available in a wide variety of colors, textures, and design, so you can always find the perfect siding for your home. Our experts will work with you directly to find the perfect siding styles and designs for your home.
Where wood will need to be repainted every few years and vinyl's colors can fade, James Hardie siding will stay looking great for many years.
It's Durable
James Hardie siding is specially engineered to resist all kinds weather, from hail to heavy winds—elements that can cause serious damage to wood and vinyl siding. James Hardie siding will also never warp, crack, or rot, so it lasts longer than wood and vinyl.
It's about five times thicker than vinyl siding, which means that it will last longer, and that it will provide better protection to your home.
It Looks Great
James Hardie siding provides more thorough protection to your home, but it will also provide the same curb appeal as vinyl and wood siding. Its textured faux-wood appearance is more attractive than vinyl, and its durability makes it a much better option than wood.
It Can Save You Money
When you have James Hardie siding installed, you'll be able to take advantage of a 30-year transferable warranty. Plus, homeowners who use James Hardie siding typically pay around 14% less on their homeowner's insurance than those with vinyl siding.
If you're looking for James Hardie siding in Topeka, call Passow Remodeling at 785-221-1123, or fill out our online request form.