A Case For Closets In Topeka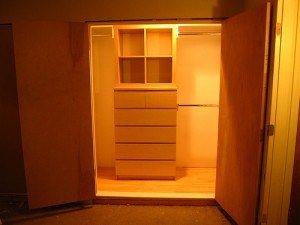 More storage space is probably something you want from your home renovation. More and better organized closets help your Topeka home feel less cluttered and can help stage your home when it's time to sell. Your Topeka remodeling contractor can install sophisticated and durable closet systems which will use absolutely every inch of space. While you renovate or as you prepare, try the following:
Sort Through Your Stuff
This is always the first step to getting organized. Whatever you're storing in your closet, you probably don't need all of it. Empty out the closet and set aside old toys, outdated paperwork, or clothing you don't need any more. If there are things you want to save for sentimental reasons, store them in a rarely used area of your Topeka home. Be realistic about which clothing you wear and which is out-of-style or the wrong size. You can turn unwanted clothing into money by consigning it or by donating it to a charity and taking a tax deduction.
Assess Your Needs
Now you know how much you really need to organize. Evaluate what kind of storage items you need. Do you need bins, racks, rods, shelves, or hooks? Measure every inch of your closet so you know what size supplies you need.
Reconfigure
Older Topeka homes tend to have clothing closets with a single rod and one shelf above it. This configuration is inadequate for most clothing storage needs today. Think about how you can improve the space. If you have a lot of separates, you would do well to have double-decker rods hanging in part of the closet. A set of floor-to-ceiling shelves would also help you organize your sweaters and other folded items. This also makes them easier to see.
Shoes
Shoes can present a storage challenge. If you're remodeling, you can have custom cabinetry and shoe cubbies added. In the interim, use a series of labeled stackable clear boxes. These boxes are real multitaskers that can be reused for years in craft rooms, kids' rooms, garages, and sheds.
Article Source: http://EzineArticles.com/?expert=Joaquin_Erazo,_Jr.
If you are looking for Topeka Remodeling Contractor then please call 785-221-1123 or complete our online request form.