The Best Way To Handle A Topeka Home Remodeling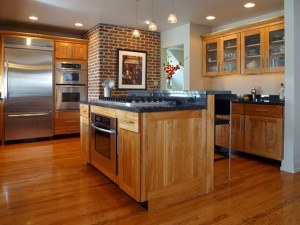 When you say you want to start remodeling your home sometime soon, that is a rather broad way of describing what you want done. You have to be more specific about your remodeling plans so that the Topeka home remodeling contractor knows exactly what you want to achieve in this home makeover project.
Home Remodeling Involves A Lot of Decisions
The sub-project of Topeka bathroom remodeling includes new vanity, new sink, new faucet, new bath tub, new shower walls, new shower doors, new vinyl flooring – at the very least, that is. You may also need to have a new toilet, new water closet, new mirror, and new medicine cabinet integrated into your bathroom layout as well. Whew! And that's just the bathroom for starters.
In Topeka kitchen remodeling, you may need new countertops (like granite countertops which stand up very well under wear and tear due to its sturdiness) or perhaps new kitchen cabinets. A new kitchen sink may also be warranted if your old one has stains that won't come out even with the toughest detergents and regular scrubbing on your behalf, or if it has rusty parts that may prove dangerous if young hands get too close.
Acoustic ceiling removal may prove necessary before you have recessed lighting installed in your living room and dining room. Recessed lighting is great for showcasing the interior details of your house, including the new carpeting you may have had installed. New dual paned windows or retrofit windows might look good here as well.
You Need A Professional With A Home Remodeling
Regardless of how you want to conduct remodeling of your home, you will probably need the professional services of an experienced and knowledgeable Topeka home remodeling contractor.
The rule of thumb when hiring any contractor is: make sure everything you ask the contractor to do for you is stipulated in a written agreement that both parties have signed. This also protects the contractor so that he gets paid for everything that he does for you.
When you ask the contractor to purchase the materials for the home makeover, you should list down what sizes, colors, models and/or brands should be bought. This cuts down on any misunderstandings and assures you that you get what you asked for.
The labor aspect is another sticking point. You should come to a definite agreement with the Topeka home remodeling contractor as to how many people he should have in his team, how long they should work on the project, and what happens if the team doesn't finish the project on schedule (meaning, do you wind up paying for the additional days or not?)
Make Sure To Have Everything In Writing
A good Topeka home remodeling contractor will provide a warranty for the work that he and his team finished for you. This way, if evidence of shoddy work shows up later on, you can hold him to the warranty and get the mistakes redone (without you having to pay extra money to him.)
By the way, who will handle disposal of trash and any debris that is produced by the home makeover project? There are Topeka home remodeling contractors who include that in the service though there may be projects where you have to find a hauler who will cart away your debris and trash for you instead. Clarify this beforehand as well.
It is also helpful if there is a stipulation in your contract permitting you a grace period before the project starts so that if you change your mind, you can always bow out gracefully without spending a cent or incurring the ire of the contractor.
Article Source: http://EzineArticles.com/783263
If you are looking for Topeka Remodeling Contractor then please call 785-221-1123 or complete our online request form.