How To Take The Pain Out Of Kitchen Remodeling In Topeka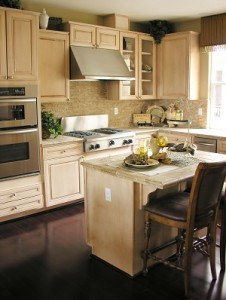 Kitchen remodeling can turn into a stressful and difficult time with the wrong Topeka remodeling contractor. The project does depend on hiring a professional who can give you the type of quality results you expect and deserve. For the best results, always do your homework to find out what type of reputation they have and how long they've been serving happy customers.
If you have a current remodeling contractor who hasn't lived up to their promises or assurances and skill level, you may be looking for someone different to handle your kitchen remodeling in Topeka. Homeowners can often find themselves in a bind when they've trusted the wrong remodeling contractor.
You can avoid some of the most common kitchen remodeling mistakes with the following tips.
Choose Your Kitchen Remodeling Contractor Wisely
If the Topeka remodeling contractor makes mistake after mistake, it degrades the value of the property they are working on and causes problems for you. Little things can really affect the results:
Paint spills, drips, & oversprays
Caulk jobs that look horrible
Tiles falling down after repairs are made
Holes and gaps ignored
Sloppy carpentry
Unlevel doors or cabinetry
Plumbing mistakes
Wrong hinges for cabinet doors
Drywall repairs that are obviously sub-par
Painted over wallpaper instead of removing the wallpaper first
Painted over outlets, fixtures, or hardware
Paint shoe prints on carpet
Drawers coming loose after so-called repairs
Holes patched with lumps
Inferior materials at standard prices
When your kitchen remodeling project ends with these problems, it's a sure sign that the remodeling contractor didn't have the knowledge and skill to do better or was too lazy and sloppy to care. If you've ever had to deal with a contractor like this, you know how frustrating it is. If you haven't, you don't want to.
A remodeling contractor who doesn't care won't last long. That's why you should always check out their ethical standards, reviews, license, insurance, and other things that set professionals apart from amateurs.
Ask for references when you call them, think about the type of customer service you are getting when you call and see if they provide a full line of remodeling services. The answers will indicate what you can expect from them when they work for you.
Remember This When Finding Your Kitchen Remodeling Contractor
The problem usually starts when a property owner tries to find ways to cut down on cost and the first idea is to choose the cheapest estimate. Unfortunately, this is a huge mistake because you do get what you pay for, but you often also end up paying for it again too soon afterward in one way or another.
It can take a lot to fix all that sloppy work, and sometimes you can't recoup your losses from a contractor. You'll have to get a real professional fix it or you yourself will need to fix it as best you can. Otherwise, the property value won't stand up to what it should be and you'll have to live with the results every day.
That's the biggest reason you'll want the job done right in the first place…to ensure the value of the home remains and is in fact improved as you set out to do.
Where To Find Pro Remodeling Contractors In Topeka
Give us a call here at Passow Remodeling. We're the professionals who get it right every time and can help you with any of your projects, including Kitchen Remodeling. Trust us to prove to you that real remodeling contractor professionals do exist!
At Passow Remodeling, you'll have a win-win situation when you choose us for your kitchen remodeling project. Our services are professional and our business practices are honest with our customer's best interests in mind. You'll never find sloppy or unfinished work and you'll only get reasonable, honest estimates. This is why so many customers refer us to others. We would love to hear about your kitchen remodeling ideas today.
If you're looking for a Professional Topeka remodeling contractor for your Kitchen Remodeling, please call Passow Remodeling at 785-221-1123 or complete our online request form.