Lawrence & Topeka Roofing Services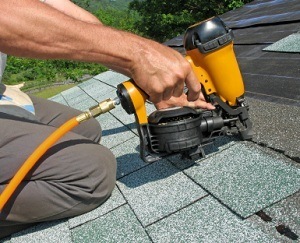 Your roofing is one of the most important parts of your home's entire structure. It's responsible, in large part, for keeping many different parts of your home out of harm's way. Your roofing is the first line of defense that your home has against moisture damage, which, without proper roofing, could lead to your foundation rotting and decaying. Your roof helps shed water away from your walls, which would otherwise be detrimentally damaged by mold and mildew growth. Your roof is also a huge part of your home's energy efficiency. So any time you need any roofing work, you need a professional that you can trust to get the job done right.
Our Topeka roofing specialists are licensed, insured, and professionally trained. So we can confidently guarantee superior service and excellent results at every job we perform. Passow Remodeling knows how important your roofing is to your home, and how important your home is to you and your family, so we'll always make sure any roofing work we perform is done up to the highest standards.
Topeka Roofing and Remodeling Services
The roofing on a home has the potential to add to its beauty as well as value. Are you planning to construct a new house or room addition? Have you thought what kind of roofing material will be best suited for it? Are you finding it hard to decide which type of roofing will be best suited for the structure and how to go about it? Our professional Topeka roofing contractors are at your service. We have a wide range of roofing materials available, from asphalt shingles to cedar shakes, and we can work with any type of roof, including:
Metal Roofing
Flat Roofs
Tile Roofs
Asphalt Shingle Roofing
Steel Roofs
Concrete Roofs
Cedar Shakes
Topeka Roof Replacements
Whether your roof is beyond repair or you're just looking to boost your home's appearance, our Topeka roof repair specialists can help you with replacement roofing. We'll help you decide on the roofing materials you'd like to use, based on your home's architecture and design, and your budget. We'll work with throughout the project to make sure you're receiving the roofing you need and want.
We can also provide roofing for any new construction projects, home additions, or remodeling projects.
Topeka Roof Repairs
Whether your need routine roofing maintenance or heavy-duty, in-depth repairs, our Topeka roofing contractors will be eager to tackle the job. We can help with any repairs, from a missing shingle, to slouching, to intensive moisture damage. We can also offer you roofing inspections to help find any problems before they get out of hand.
If you are looking for Lawrence & Topeka Roofing Services then please call 785-221-1123 or complete our online request form.