Lawrence & Topeka Tile Flooring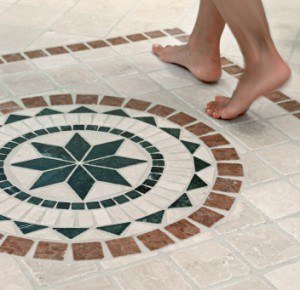 The flooring in your kitchen or bathroom is one of the biggest parts of how attractive it is, how easy it is to keep clean, and how resistant it is to moisture damage. Professional tile flooring can change the way an entire room feels, giving it a modern or classic appearance. There are countless options for colors, designs, and textures, so you'll be able to able to find the perfect choice for your floors. And having our Topeka tile flooring professionals replace any old flooring can make your kitchen or bathroom much easier to keep cleaner. Tile floors are also very durable and resistant to damage, so you won't have any problems with moisture leaking through, which could otherwise cause significant damage to your home. Whether you're only having tile flooring installed or you're having your floors done as part of a larger remodeling project, we can make sure that your flooring is professionally and attractively installed.
At Passow Remodeling, our Topeka tile flooring professionals are all licensed, insured, and professionally. So we can guarantee that you'll be receiving the most professional service and highest quality workmanship possible. We'll work with you directly throughout the process, helping you choose the perfect tile design for your flooring, and leaving all major decisions up to you throughout the course of the project. We guarantee your satisfaction with our work, and you won't pay us anything until any deficient or inadequate work is taken care of.
Benefits of Topeka Tile Flooring
Tile flooring is your best option if you're looking for flooring that's creative, practical, and has limitless options. There are several colors, textures, shapes, and sizes, which can then be arranged into nearly any patters. So the variety of choices you have is endless. Our Topeka tile flooring professionals can add glass trim, colored grout, or hand-painted accents to further enhance the design. We'll help you decide on the perfect design for your home, then we'll make sure it's perfectly installed.
Tile flooring is also extremely resistant to water. With a protective layer that rests over the material, ceramic tiles are impervious to water and stain penetration, so you won't have to worry about mold or mildew growth, which could destroy your flooring. This is what makes tile the perfect choice for kitchens and bathrooms. They're also very durable. After our Topeka tile flooring professionals install your tile flooring, you can count on it lasting 10-20 years with proper maintenance. And if you do have a crack in your tile flooring, the individual tiles are fairly easy to replace.
Environmentally Friendly Tile Options
Because of how long tile can last, how much it can help with your indoor air quality, and the recycling options that are available for it, Topeka tile flooring can be a a very environmentally friendly option. So if you're going green with your next remodeling project, it's an excellent choice. Our professionals can help you choose the most environmentally friendly tile flooring options when we're deciding on your design.
If you are looking for Lawrence & Topeka Tile Flooring Services then please call 785-221-1123 or complete our online request form.