Lawrence & Topeka Window Replacement and Installation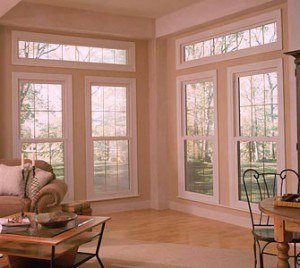 The windows in your home don't just account for a good amount of its appearance, both inside and out. They're also a big part of how energy efficient your home is. Windows keep heated or conditioned air in your home, and don't let outside air in. But when you have older, worn out windows, they'll be extremely inefficient and start to have a negative effect on your energy costs. The panes may feel cold to the touch in the winter, and you may even be able to feel a draft coming through the cracks. If you've noticed any of the these problems occurring, you should call our professional Topeka window replacement specialists.
But of course, many homeowners are looking for replacement windows for purely aesthetic reasons. You may be renovating your home and would like to replace the windows as part of your remodeling project. Our Topeka window replacement specialists can install any type or style of window in your home, and your new windows can completely change the way any room in your home looks and feels. They can last for years, make your home more valuable, and they're the perfect addition to any home.
Topeka Vinyl Windows
Because they're extremely durable, long-lasting, and low-maintenance, vinyl windows make the perfect choice for many homeowners considering replacing their windows. They won't rust or warp, so you won't ever have to pay too much attention to them. They're also the most cost-effective option and will increase your energy efficiency. Our Topeka window replacement specialists can professionally install your new vinyl windows in any space, no matter what the size. We'll make sure they're as energy efficient as possible, and that they're attractively installed.
Topeka Wood Windows
It's tough to find anyone who would argue against the natural beauty of wood, so if you're worried about having the most attractive windows possible, wood windows are a great choice. And its aesthetic qualities are just the beginning. Wood windows will help to increase the structural integrity of your home, and they can add a richness to the appearance of your architecture. They do require more maintenance than vinyl windows, but their quality and classic appearance makes them a strong, viable option for anyone willing to take care of them. Our Topeka window replacement specialist can help you decide if wood windows are the best choice for your home.
Topeka Energy Efficient Windows
If you'd like to make your home a comfortable place while also saving money on your monthly energy costs, our Topeka window replacement specialists can help. Our energy efficient windows are specifically designed to help keep your home cooler in the summer and warmer in the winter. And with the savings you'll get from your energy bills, your new replacement windows will pay for themselves.
If you are looking for Lawrence & Topeka Window Replacement Services then please call 785-221-1123 or complete our online request form.