Lawrence & Topeka Bathroom Remodeling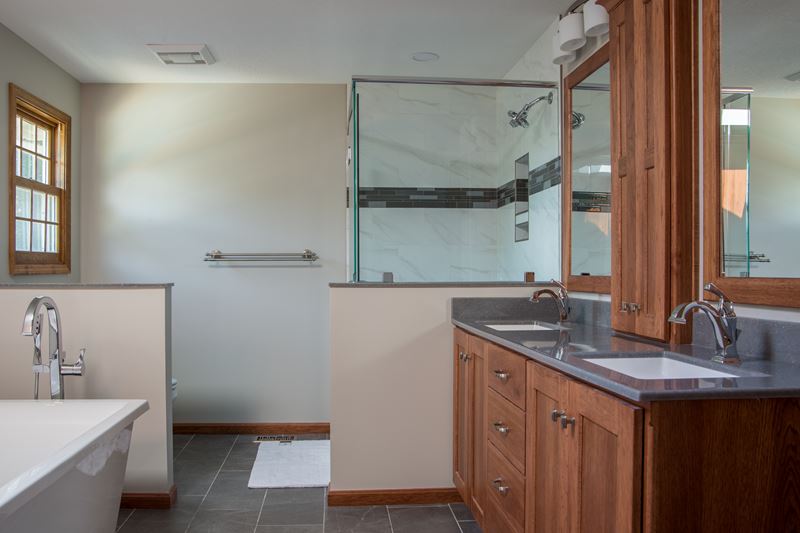 Older bathrooms can easily become very frustrating, uncomfortable parts of your home. And your bathrooms should be one of the most comfortable and relaxing parts of your home. If your bathroom isn't all you need it to be, our Topeka bathroom remodeling contractors can help. Whether you're looking to completely gut and redo your bathroom with all new fixtures and amenities, or you'd just like to replace a few fixtures or have new flooring installed, Passow Remodeling can make sure that you're receiving the best services possible. We'll help you to design your new space, leaving all of the decisions to you, but offering up our professional opinions and advice. We know how important having any work done on your home is, so we'll take every job we perform extremely seriously.
Our Topeka bathroom remodeling contractors are all licensed and insured, and professionally trained and experienced. We take pride in being courteous and respectful of your home, and we follow a strict code of ethics at every job. We'll always maintain a clean and safe workspace, and we'll be as unobtrusive as possible.
Topeka Bathroom Design
Redesigning your bathroom can be as simple or complex as you like. Often, just adding a new vanity, sink, or cabinet, can be enough to enhance the space and make it more attractive. Sometimes you may just need new tile flooring to rejuvenate your bathroom. And other times, you may want to build a completely new and modern bathroom from the ground up. No matter what, our Topeka bathroom remodeling contractors will help you every step of the way. We'll assist you in developing the designs and ideas, and helping you decide on exactly what you need done.
Our Topeka bathroom remodeling contractors strive at all times for complete customer satisfaction, and we'll make sure that our work exceeds your expectations. If you have a small bathroom that you're not sure how to remodel because of a lack of space, we can help you manage that space and make it comfortable and easy to organize. If you'd like to turn your master bathroom into a luxurious spa, we can help you select the products and amenities that will suit your needs. We can provide you with professionally installed tile flooring, bathroom cabinetry, plumbing fixtures, tubs, showers, and more.
Topeka "Green" and Budget-Friendly Bathroom Designs
Our Topeka bathroom remodeling projects are designed specifically for you. Whatever your concerns or wishes are for the project, we'll help you get exactly the services you're looking for.
If you, like many homeowners today, are concerned in creating a more environmentally friendly living space, your Topeka bathroom remodeling project is a great place to start. We can help you create a bathroom that's safer for you and your family, more energy efficient, and that can help you converse resources.
If you're working on a budget, our Topeka bathroom remodeling contractors can work with you to help you get the most out of this project. Creating a new space that you love doesn't need to require you to spend a ton of cash. We have the most reasonable rates around, and we can help you find the most cost-effective ways to get the job done.
If you are looking for Lawrence & Topeka Bathroom Remodeling then please call 785-221-1123 or complete our online request form.