Topeka Remodeling Contractors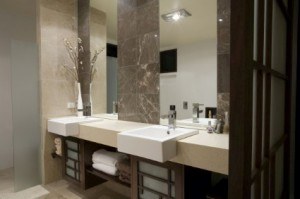 At Passow Remodeling, it's our mission to provide every one of our clients with high quality remodeling service at the most reasonable prices. We've found the best way to make sure that you receive the best remodeling services possible is to make sure that they were the ones you wanted to start with. So our Topeka remodeling contractors will always offer you our professional advice and opinions, but we'll work directly with you the achieve results that are best for you and your home. We may be remodeling experts, but the only expert of your home is you. We'll also strive constantly to keep your home as comfortable and liveable as possible during any remodeling projects. We know that these projects can be invasive, so we'll always have a clean, safe, and secluded work site.
No matter how small or large and complex the work you need done is, our Topeka remodeling contractors will make sure that you're receiving the highest quality craftsmanship available. We know how important your home is, and how important any changes to it are. So we'll always make sure you're getting our best quality work. As members of the National Association of Home Builders, the Topeka Home Builders Association, and the Topeka Professional Remodelers Council, we can guarantee that we'll have the experience and expertise you need to get your remodeling job done right.
Give us a call with any questions you have about the services we provide, or to schedule your appointment, and we'll be looking forward to starting this project with you.
Topeka Kitchen Remodeling
Your kitchen naturally becomes a sort of focal point of your home, just based on how much time you spend there. It's where you cook, where you eat, where you socialize with guests—and, of course, it's where you'll do a bulk of your home cleaning. That's why a professional kitchen remodel can immediately raise the value of your home. But that's not all it's good for: remodeling your kitchen can give you more space to prepare and cook food, make the space much easier to keep organized, and leave you with a more attractive kitchen. Our professional Topeka Kitchen Remodeling contractors can create a space that's more liveable and more enjoyable. And because your kitchen is such a huge part of your life, that's exactly what you deserve to get out of it.
Topeka Bathroom Remodeling
The bathrooms in your home should be a place of comfort, solitude, and relaxation. But with poor ventilation, faulty plumbing fixtures, or even just a poor use of space, your bathroom can become a frustrating place. Our Topeka Bathroom Remodeling contractors can work with you to design a better bathroom for your home and your life. We'll work with you to determine which design and amenities will be best for you, your family, and your budget. Then we'll make sure it's perfectly put together.
What Topeka Homeowners Are Saying About Us
Passow Remodeling is Rated: 5 / 5
based on these 2 happy customer reviews.
---
"Wow! I just want to say what a fantastic job the Passow crew did replacing my mother's roof recently. John was so great about explaining everything he was going to do up front and also gave a very reasonable estimate. The job is completed and the roof and guttering is just beautiful!"

– Mrs. Alta Topeka, KS | Rated: 5/5
---
"Ryan, I just wanted to say a quick THANK YOU for the superb job you and your crew did for us. I owe you for coming to our rescue! I appreciate you going above and beyond to see that our restrooms were completed by Tuesday. I will not hesitate to recommend you and your company for any other projects"

– Mr. Ryan Topeka, KS | Rated: 5/5
---
If you are looking for a Topeka Remodeling Company then please call 785-221-1123 or complete our online request form.