Our Great Options In Beautiful Lawrence & Topeka Decks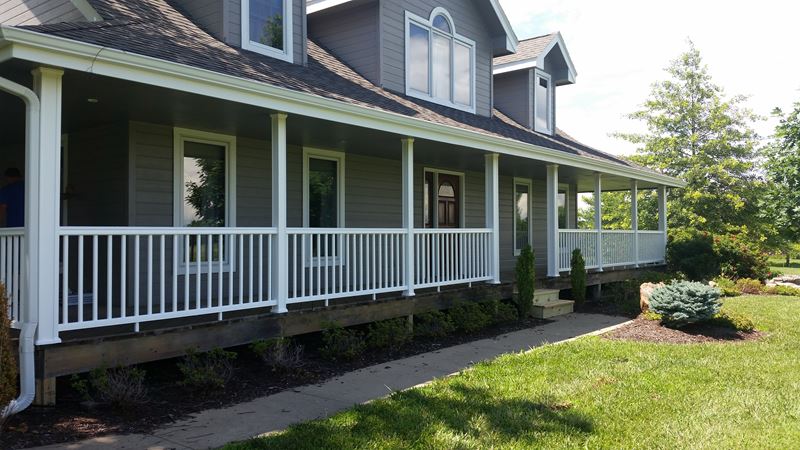 When you are interested in installing a new Topeka area deck, you may not know about all the great materials that you can choose from. And, it can be a difficult decision as you balance the options in value, colors, durability, and textures.
With a deck, it's important that the materials are long-lasting as inferior options will have you replacing the deck in five years or so. Or, you could wind up with a longer lasting deck that is warped or twisted, weathered and gray, or unsightly in appearance.
Passow Remodeling has been building decks for Topeka and surrounding areas of Kansas for years with expertise. We are certified Green Professionals that offer you an environmentally friendly home using sustainable materials and energy efficient products.
Take a look at our deck options and give us a call with any questions. If you're ready to have more living space in the natural outdoors, your new deck is going to suit you well.
A custom Topeka deck, installed by your Topeka Remodeling Contractor will look amazing on your home!
Quality Pressure Treated Decks
Many choose pressure treated lumber for decking materials. Pressure treated decks are the most affordable option. With the right treated wood, you could have a brand that carries a lifetime, limited warranty.
Be sure you are choosing the right pressure treated wood for your new deck as inexpensive treated wood can shrink unevenly and absorb moisture. The last thing you need is a deck that twists and warps when it dries.
Premium pressure treated decks can last, though they cost about 40% more per linear foot. You have fewer knots and straighter grains and a longer lasting deck.
Natural Redwood Decks
Natural Redwood is a common decking material for a reason. It's both beautiful and durable when properly maintained. The color is stunning in a rich red tone of the heartwood grades and equally beautiful yellow-tone of sapwood grades.
Redwood decks are resistant to insects and decay naturally. They are also resistant to fire. The material is extremely durable yet lightweight.
Redwood is well-known for aesthetics, symmetry, and environmental element resistance. It resists shrinking, warping, and splitting. For a deck material, Redwood is a most beautiful option.
Beautiful Cedar Decks
For a natural wood look, cedar decks offer a deep, red color and a rot resistant material. Cedar is resistant to moisture absorbency and can last up to 20 years as an elevated deck.
Cedar decks need to be resealed and cleaned every year or two to retain the durability and warm, rich color. The sealant helps to protect this softer wood material from furniture dragging and other damages.
Cedar is a moderate cost option that fits between pressure -treated wood and composite deck options. If you love the warm, reddish glow of cedar wood and enjoy the natural insect and moisture resistant it offers, this is the right choice in decking material for you.
Durable Composite Decks
Composite decks are highly desirable for their near-zero maintenance requirements. The material is made of recycled plastic and wood chips or sawdust. If you want a one-time deck build, composite is the way to go.
Cleaning and maintenance is easy, only requiring a simple spray from the hose. The composite deck materials will not rot, warp, or splinter and the material is defect free so every inch can be utilized.
Composite decks cost more than woods or pressure treated wood, but is highly worth it due to the longevity of the deck and decades of easy maintenance.
If you are interested in Lawrence & Topeka Decks, please call 785-221-1123 or complete our online request form.