Lawrence & Topeka Kitchen Remodeling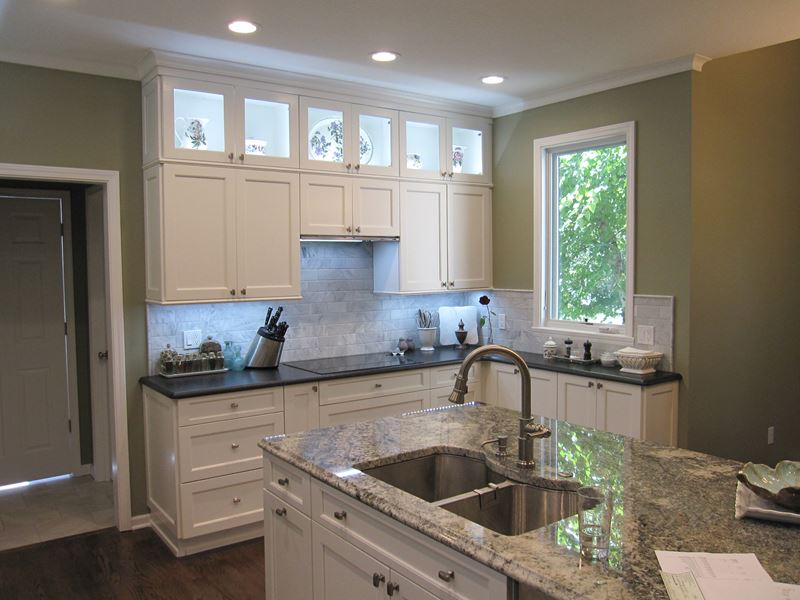 Kitchens are the most popular choice for home remodeling projects, and it's not difficult to understand why. Your kitchen is a huge part of the life you live at home. It's where you prepare meals, where you eat, and where you socialize over coffee. Kitchens naturally become a focal point of any home, and improving your kitchen will improve your entire home's appearance, comfort, and value. Having your kitchen remodeled can drastically change the entire look and feel of your home. And when you hire a professional Topeka kitchen remodeling contractor with the expertise and experience to complete the job with superior quality workmanship, you can expect to have your home's resale value spike.
All of our Topeka kitchen remodeling specialists are licensed and insured, professionally trained, and extensively experienced. We work directly with every one of our clients so that we're providing exactly the services and construction that you're looking for. We'll work with you to design a new kitchen that's based on your ideas, our professional opinions, and your budget and time-frame. We'll make sure that you're getting exactly what you need out of this project for the most reasonable rates.
If you're looking for a Topeka kitchen remodeling contractor, contact us today, and we'll be looking forward to working with you.
Topeka Kitchen Design
Even though we're the remodeling experts, the only expert on your kitchen is you. So throughout the design and construction of your kitchen remodel, our Topeka kitchen remodeling contractors work with you directly. We'll keep you updated and contributing from the initial steps of the projects, the concept and design, through to the completion of the project. We'll help you determine exactly what you need to get out of this remodel, then we'll find the best to get it to you. We'll help you keep the perfect balance of quality of work, time, and cost throughout the project, so that it's guaranteed to be successful.
Your kitchen should be a part of your home that's comfortable and attractive, organized, and easy to maintain. Some counter top materials can be difficult to clean, or easy to damage. Sometimes the space that you need to prepare a meal isn't available. Whatever the case, our Topeka kitchen remodeling contractors will help you redesign, enhance, and improve the space.
Topeka Kitchen Construction
Having a kitchen remodeled is one of the most important things you can have done to your home, so it's important that you hire a Topeka kitchen remodeling contractor that you can trust with the work. At Passow Remodeling, we guarantee your complete satisfaction with all of our work. We'll minimize the amount of time we're working on your kitchen so that you can get back to your life as soon as possible, but we'll never sacrifice quality workmanship for speed.
If you are looking for Lawrence & Topeka Kitchen Remodeling then please call 785-221-1123 or complete our online request form.