Lawrence & Topeka Basement Remodeling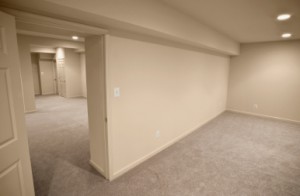 Seeing the possibilities and potential that come with an unfinished basement can be difficult: that rough, bare, empty space has nearly unlimited potential, but seeing it right away may be difficult. It's not uncommon for basements to be completely overlooked by homeowners. But even if it's currently filled with junk and clutter, your basement could easily turn into a family favorite. Our Topeka basement remodeling contractors specialize in transforming unfinished basements into what may turn into the best part of your home. Basement remodeling and finishing is a great way to get more enjoyment your home, and it can give you much more space for a much lower price than an addition. Not to mention, this project will immediately raise the resale value of your home.
Topeka Basement Remodeling Design
The key to an excellent outcome for any new Topeka basement remodeling is making sure that you have a solid design and plan for the layout. You'll need to consider the lighting: you'll want to put the TV are away from any natural light, for instance, and keep social areas closer to it. If you're planning on including a food storage area, you'll want to keep it in a place that no one will need to pass in front of the television to reach. If you'll be putting a bedroom in, keep it near the perimeter where it can be close to any window egresses. You should plan out every aspect of your design and layout before you being the project. Our professional Topeka basement remodeling contractors can help you find the perfect design, and we'll work with you throughout the entire project.
It's not uncommon to encounter some problems during the project, but our Topeka basement remodeling contractors can handle any complications that arise. Before we begin any basement finishing job, we'll inspect the basement for any excessive moisture and make sure that your foundation is properly sealed. We'll check your flooring, and we'll be certain that any fuel burning equipment is up to code and safe for use. When we come across any problems, we won't perform any repairs without first discussing them with you in plain English.
You'll also want to be sure that you have at least two sump pumps for your basement in case of heavy rainfall. In case of power loss or any other malfunction, you'll want to have a backup. Once your Topeka basement finishing is complete, you won't want it ruined by an unexpected storm.
Topeka Basement Remodeling Construction
Once the design is decided on, our Topeka basement remodeling contractors will work promptly and professionally to make sure that your new basement is everything you need it to be. We can take care of every aspect of the construction, from insulating your pipes and building new walls to adding light fixtures and installing the flooring. We'll stay in continuous communication with you throughout the construction process to ensure that you're 100% satisfied with all of our work.
If you are looking for Lawrence & Topeka Basement Remodeling then please call 785-221-1123 or complete our online request form.