Lawrence & Topeka Handyman Services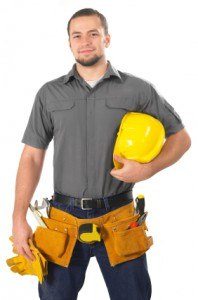 Your home is always a work in progress. With the regular wear-and-tear of daily living, there's no end to the repairs you'll need. From plumbing and carpentry, to electrical repairs or roofing, you nearly always need some type of work done—and that's not even factoring in the services you voluntarily have done, like remodeling and interior design. Having a trusted Topeka handyman to service your home when work needs to be done is one of the most valuable things you can have as a homeowner. There's no way to predict when you'll need something done, and having a relationship with a trustworthy worker can be priceless.
When you have smaller repairs that need to be done, you won't always want to call a professional contractor. Problems with your ceiling fan, a shelf, a toilet or leaking sink—you may not be able to solve them on your own, but calling in a professional seems like overkill. That's where our Topeka handyman services thrive. We'll come out and take care of the little problems, and we'll do it with our signature professionalism and respectful, courteous demeanor.
Our Professional Handymen
All of the handymen at Passow Remodeling are licensed, insured, and professionally trained. No matter what job you need done, we'll be able to make sure it's completed professionally, properly, and promptly. We value the relationships that we're able to develop with our clients, and that's a major part of our success as a business. So we'll always work directly with you, and discuss every part of our repairs with you in plain English. Our pricing will be upfront, honest, and accurate. And all of our Topeka handyman services are guaranteed to meet or exceed your expectations. If you find any faulty or inadequate work, we'll solve the problem before you pay us anything.
Our Commitment to Quality Service
At Passow Remodeling, we know that quality service is about more than just our repairs. Of course, we'll always provide you with the highest quality workmanship there is. But we'll also treat you, your home, and your family with the respect they deserve. Our Topeka handyman services are designed with you in mind. We'll make sure that you're getting individualized service that's completely customized for your home and your needs. We'll help you out when you need to work within a budget, and when you need the work done within a specific time-frame. We know how important your home is to you and your family, and we'll never treat it like anything less.
If you are looking for Lawrence & Topeka Handyman Services then please call 785-221-1123 or complete our online request form.